This could not have come into my email box at a better time! I have been in dire need of adding new social media buttons to the blog and Elegant Themes came through for me.
Talk about how the Universe is answering my needs! Woot!
These social media icons really are simple & elegant and the colors are just gorgeous! I cannot wait to add these to my blogsite!
This social media icon set includes icons for the following applications:
Facebook, RSS, Twitter, Dribbble, Pinterest, Instagram, Tumblr, Evernote, LinkedIn, Vimeo, Digg, DeviantArt, Bebo, Flickr, Posterous, Blogger, WordPress, Delicious, SoundCloud, Yahoo, eMail, StumbleUpon, YouTube, MySpace, Last.fm, DesignFloat, Orkut, Behance, Netvibes, Reddit, Forrst, Grooveshark, Path, Google Plus and Picasa.
Download these Beautiful & Free Social Media Icons or check out our large collection of WordPress Themes by Elegant Themes.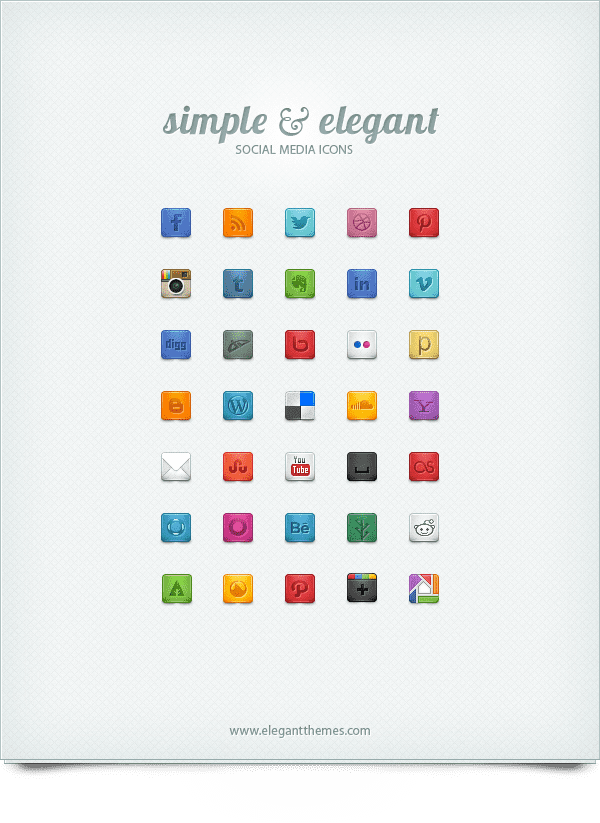 Do you have a favorite social media icons set you use for your blog?